Enclave by Ann Aguirre
Author
Melissa Scott
Sat 7 Apr 12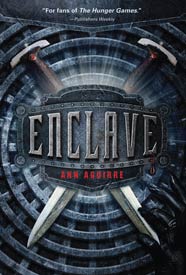 In Deuces world people are given a name when the turn 15 years old. Until then you are known as a Brat. At the same time it is decided if you are a breeder, builder or hunter. Breeders keep the population and raise the children, builder's create and repair items that are needed and hunters provide the food and protection to Enclave members.
Deuce is partnered up with Fade, an outsider that has been allowed to join the group. Together they go out and fight ferocious monsters named Freaks, while bringing home food for the others. Through Fade, she learns that things are not always what they seem. Also, that the leader's are not always acting in the best interest of the group.
This is the first book in the Razorland series. If reader's like Dystopian survival stories like The Hunger Games they are sure to like Enclave.
Reviewed using Simple Review