Things your dog doesn't want you to know by Hy Conrad and Jeff Johnson
Author
Nancy
Mon 23 Apr 12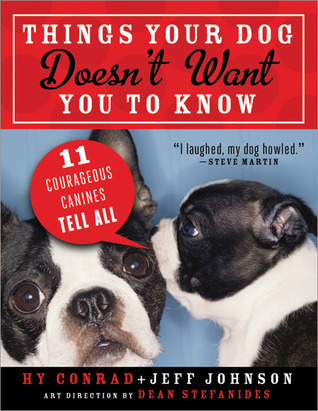 I have always had a dog and at one point, I had so many dogs, that the county made me buy a small kennel license to keep them. This book is funny.
Take Sarge, the German Shepherd, who has trouble keeping a job. Sarge was originally trained as a police dog to sniff out dope, but he was never instructed to not eat the dope once he found it. Oops. Fired.
Dimples does not like the fact that her owner took over raising her two young puppies, and Dimples tries to tell her owner what she is doing wrong in raising her pups.
Learn how Charlie, the German Schnauzer, is able to convince his owner that a possum got into the compost pile, although Charlie has never even seen a possum.
And it was the Chihuahua Tinkerbell's fault that Brianna got arrested for shoplifting. Well, maybe not. Tinkerbell really doesn't like to be slung around in Brianna's purse all day. Can you blame Tinkerbell for pulling a nice, soft blouse off that clothes rack to use as a soft bed while Brianna tried on clothes.
I loved this book.
Reviewed using Simple Review