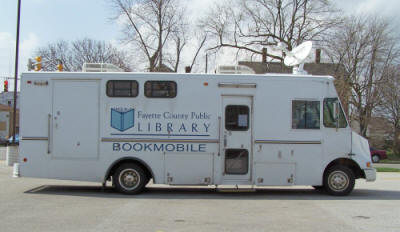 The library's outreach program consists of the bookmobile and homebound services. The bookmobile runs three days a week ( Tuesdays, Wednesdays, and Thursdays) on a bi-weekly schedule. The schedule includes schools, nursing homes, daycares and community stops.
The homebound service is for any Fayette county resident, any age, who is unable to come to the library or bookmobile due to his or her inability to travel. Materials which can be delivered consist of books, magazines and audio and visual materials. Any request for specific materials, the library will make every effort to provide.
For more information about these programs, please contact the library at 765-827-0883 or the bookmobile at 765-265-5200.


Bookmobile Schedule
| | | | | | | |
| --- | --- | --- | --- | --- | --- | --- |
| Stop | Time | January | February | March | April | May |
| Faith Christian School | 10:00-11:15 | 9,23 | 6,20 | 6,20 | 10,24 | 8 |
| Angels Unaware Daycare | 11:20-11:50 | 9,23 | 6,20 | 6,20 | 10,24 | 8 |
| Senior Center | 12:00-12:30 | 9,23 | 6,20 | 6,20 | 10,24 | 8 |
| Magic Moments Daycare | 12:45-1:15 | 9,23 | 6,20 | 6,20 | 10,24 | 8 |
| Heritage House of Connersville | 1:30-2:00 | 9,23 | 6,20 | 6,20 | 10,24 | 8 |
| Fountain Place Apts | 2:10-2:40 | 9,23 | 6,20 | 6,20 | 10,24 | 8 |
| Valley Place Apts | 2:45-3:15 | 9,23 | 6,20 | 6,20 | 10,24 | 8 |
| Aftercare (Maplewood) | 3:30-4:15 | 9,23 | 6,20 | 6,20 | 10,24 | 8 |
| | | | | | | |
| | | January | February | March | April | May |
| Magic Moments Daycare | 9:00-10:30 | 10,24 | 7,21 | 7,21 | 11,25 | 9 |
| Everton School | 11:00-2:00 | 10,24 | 7,21 | 7,21 | 11,25 | 9 |
| Fayette County Jail | 2:15-2:30 | 10,24 | 7,21 | 7,21 | 11,25 | 9 |
| Conner Court Apartments | 2:45-3:15 | 10,24 | 7,21 | 7,21 | 11,25 | 9 |
| Woodside Village | 3:30-4:00 | 10,24 | 7,21 | 7,21 | 11,25 | 9 |
| | | | | | | |
| | | January | February | March | April | May |
| Everton School | 9:00-2:00 | 11,25 | 8,22 | 8,22 | 12,26 | 10 |
| Pattern Mill Apartments | 2:15-2:45 | 11,25 | 8,22 | 8,22 | 12,26 | 10 |
| Elephant Hill | 3:00-3:30 | 11,25 | 8,22 | 8,22 | 12,26 | 10 |
| Gorton Estates (Alta Lane only) | 3:45-4:15 | 11,25 | 8,22 | 8,22 | 12,26 | 10 |
| | | | | | | |
| | | January | February | March | April | May |
| Fayette Central School | 10:00-2:00 | 16,30 | 13,28 | 13 | 3,17 | 1,15 |
| Tender Care Daycare | 2:20-2:40 | 16,30 | 13,28 | 13 | 3,17 | 1,15 |
| God's Little Blessings Daycare | 2:45-3:25 | 16,30 | 13,28 | 13 | 3,17 | 1,15 |
| Aftercare (Grandview) | 3:30-4:00 | 16,30 | 13,28 | 13 | 3,17 | 1,15 |
| | | | | | | |
| | | January | February | March | April | May |
| Fayette Central School | 9:15-2:00 | 17,31 | 14,28 | 14 | 4,18 | 2,16 |
| Fayette Apartments | 2:15-2:45 | 17,31 | 14,28 | 14 | 4,18 | 2,16 |
| Fayette Regional Care Pavilion | 2:50-3:30 | 17,31 | 14,28 | 14 | 4,18 | 2,16 |
| Conner Court Apartments | 3:45-4:15 | 17,31 | 14,28 | 14 | 4,18 | 2,16 |
| | | | | | | |
| | | January | February | March | April | May |
| Sherry's Sunshine Daycare | 9:00-9:45 | 18 | 1,15 | 1,15 | 5,19 | 3,17 |
| Community Christian School | 10:00-12:00 | 18 | 1,15 | 1,15 | 5,19 | 3,17 |
| Hickory Creek | 12:15-12:30 | 18 | 1,15 | 1,15 | 5,19 | 3,17 |
| Caroleton Manor | 12:35-1:00 | 18 | 1,15 | 1,15 | 5,19 | 3,17 |
| Glenwood (South End) | 1:15-1:45 | 18 | 1,15 | 1,15 | 5,19 | 3,17 |
| Orange (Church) | 2:00-2:30 | 18 | 1,15 | 1,15 | 5,19 | 3,17 |
| Pleasantview (Serenity Parkway) | 2:45-3:15 | 18 | 1,15 | 1,15 | 5,19 | 3,17 |
| Aftercare (Frazee) | 3:30-4:15 | 18 | 1,15 | 1,15 | 5,19 | 3,17 |
| | | | | | | |